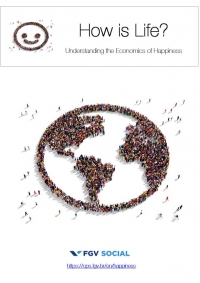 How is Life?: Understanding the Economics of Happiness
March/2019
Does money bring happiness? What are the links between economics and social wellbeing in Brazil and the world? Is the country a point outside the curve? Beyond the structural aspects captured in global figures, in recent years Brazil has suffered the worst recession in its statistically documented history, offering the opportunity to test those aspects in the extreme Brazilian case: has the quality of life declined to a greater or lesser degree than in other countries? What are Brazilians' lives like? Why is the nation's general happiness declining more than its GDP? Is it unemployment, inequality, disillusion with politics, or all those aforementioned alternatives? Who has suffered most from the Brazilian recession - women, rural residents and or the illiterate? Or who of the poor, rich or the so-called new middle class has lost happiness most? These are the questions this study looks to answer.
https://cps.fgv.br/en/happiness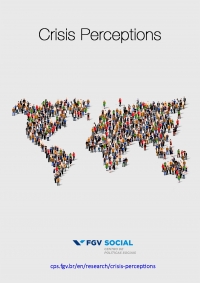 Crisis Perceptions
October/2018
Unprecedented research compares Brazilians' perceptions to rest of world
The survey "Crisis Perceptions", published by FGV Social – Center for Social Policy on October 17, shows how Brazilians see several aspects of their political and social context. Based on microdata from the Gallup World Poll, FGV Social compared Brazilians' perceptions to those of 124 countries.
"We often think that the world is complicated and that Brazil is too. Actually, Brazil is much more complicated", said the director of FGV Social and author of the survey, Marcelo Neri.
The subjective data on a global scale shown in the survey sheds light on the values and peculiarities of Brazil's current situation. The study compared the evolution of Brazilians' perceptions to those of 124 countries in some of the most sensitive issues of the current scenario: fear of violence, disbelief in the political system and lack of confidence in the State. These figures place Brazil as second to last in each of these issues among all countries surveyed in 2017, the worst result in the Brazilian series.
The study also showed that 68% feel unsafe walking at night in their home area in Brazil; just 14% believe in the honesty of elections and 82% do not trust the Federal Government. Only Afghanistan ranks worse in the first two issues, and Bosnia in the last. These figures help us understand the priority given to safety, the lack of transparency in the electoral process and the breakdown of the State in the current Brazilian political moment.
The renewal of traditional political scenarios, seen in the first round of the 2018 elections, can be understood from the 86% disapproval rate of Brazilian political leaders. It was not only the highest disapproval rate on the planet last year, but also the highest in the historical series examined in more than 733 cases (number of countries times years surveyed). That is, a record in the global series for this decade.
According to the study, the extreme perceptions of Brazilians captured in an extensive list of countries, including the poorest, suggests a critical psychosocial situation. The trajectory of the subjective series of this decade led to the study of the objective and subjective causes of the 2013 protests, one of the main landmarks of Brazilian society in its recent history.
In order to understand the perceptions, the street demonstrations and the nature of the challenges ahead, we need a longer-term insight into Brazil's main social and economic advances and mishaps. Against a backdrop of global objective indicators, there have been advances in income distribution, education and life expectancy in Brazil. However, according to Neri, "we have not been able to advance in aspects limiting economic performance such as labor productivity and fiscal balance. It's as if social indicators improved without an economic foundation in this period. This mismatch would indicate a need for structural reforms to align both sides of the socioeconomic equation, finally meeting Brazil's aspirations".
https://cps.fgv.br/en/research/crisis-perceptions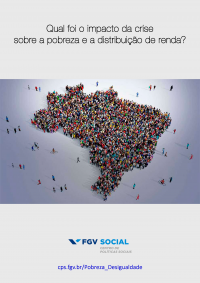 Qual foi o impacto da crise sobre a pobreza e a distribuição de renda? (In portuguese)
September/2018
"Hoje, temos 23,3 milhões de pessoas — mais do que a população do Chile — vivendo abaixo da linha de pobreza de R$ 232 por mês; cerca de 11,2% da nossa população. A miséria subiu 33% nos últimos 4 anos. Foram 6,3 milhões de novos pobres"
O FGV Social mostra a evolução da pobreza desde antes do plano real até o fim do governo atual. A desigualdade aumentou nos últimos anos? Perdemos os ganhos sociais da última década? Por que a vida do brasileiro piorou? Observando os diferentes grupos (sexo, raça, idade, escolaridade, posição na família, região, etc) quem perdeu mais com a crise?
O FGV Social possui uma longa tradição em captar as inflexões das séries sociais brasileiras. Somos reconhecidos pela rapidez com que processamos os microdados públicos. Fomos os primeiros a detectar a queda da pobreza desde o plano real e os primeiros a mostrar que no primeiro ano do governo Lula a pobreza cresceu bastante; sendo seguida depois de várias quedas consecutivas. Mostramos também que o Brasil atingiu com antecedência as meta de redução de pobreza das "Metas do Milênio".
(In portuguese) https://cps.fgv.br/Pobreza_Desigualdade