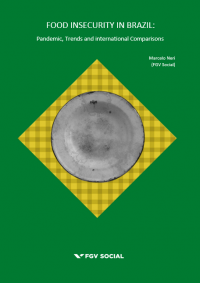 Food Insecurity In Brazil: Pandemic, Trends And International Comparisons
About the research:
ABSTRACT: Brazil occupies a prominent place on the issue of food insecurity, both because of agricultural production and because of the difficulties that Brazilians have to deal with the lack of food. From the processing of Gallup World Poll data, we offer a recent picture about food insecurity in the Brazilian population (2021 - collected from August to November) and an analysis of its changes in the period of the Covid-19 pandemic. This database allows full comparability between 160 countries and on an annual basis since 2006, allowing us to measure longer-term differences in food insecurity between Brazil and the world, as well as their close determinants such as income, education, gender and age.
Hunger in the pandemic - The share of Brazilians who did not have money to feed themselves or their families at some point in the last 12 months rose from 30% in 2019 to 36% in 2021, reaching a new record in the series started in 2006. For the first time since then, Brazilian food insecurity has surpassed the world average. Comparing a set of the same 120 countries with Brazil, before and during the pandemic, food insecurity rose 4.48 percentage points more here (increase four times higher in Brazil), suggesting relative ineffectiveness of national actions.
Worsening of the poor - The increase in food insecurity among the poorest 20% in Brazil during the pandemic was 22 percentage points, from 53% in 2019 to 75% in 2021, level close to Zimbawe, the country with highest level of food insecurity. The richest 20%, on the other hand, experienced a drop in insecurity of three percentage points (from 10% to 7%, getting close to Sweden (5%) the country with lowest level of food insecurity). Compared to the global average of 122 countries in 2021, our poorest 20% have 27 percentage points more food insecurity while our richest 20% have 14 percentage points less. High levels and increases in inequality of Brazilian food insecurity by income are also found by levels of education.
Feminization of hunger – We observe a growing and marked asymmetry of food insecurity between men and women in Brazil. From 2019 to 2021, there was a drop of 1 percentage point for men (from 27% to 26%) and an increase of 14 percentage points among women (up from 33% to 47%). As a result, the gender gap in food insecurity in 2021 was 6 times greater in Brazil than the global average. Women, especially those aged between 30 and 49, where the increase was greater, tend to be physically closer to children, generating consequences for the country's future, since child malnutrition leaves lasting physical and mental scars.
Perspectives – We show a parallel between food insecurity measures and with income-based poverty indicators in Brazil. We show the relevance attributed to the theme by Brazilians based on subjective answers. We prospectively assess the impact of changes introduced in anti-poverty programs vis a vis the current scenario of stagflation especially prevalent among the Brazilian poor.
I Text (In portuguese)
l Slides (In portuguese)
l Vídeo 3 min (In portuguese)
I World map (%) Lack money to buy food - 2021 / 2019 / 2014
l Ranking - (%) Lack money to buy food - 2021 / 2019 / 2014 / 2010 / 2006
l World map - Logistic Regression - Odds Ratio
l World map - Bienniums 2005 - 2018
l Executive summary (In portuguese)

| Contact: fgvsocial@fgv.br / Tel: +5521 37992320