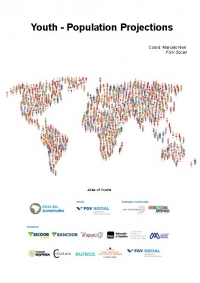 Youth - Population Projections
About the research:
In a project entitled Atlas of Youths, spatial representation plays a prominent role. We emphasize here changes and levels of the of Brazilian youth population vis a vis global and local perspectives, their causes (fertility, life expectancy etc) and consequences (growth, social security balance etc).

After maintaining for almost two decades just over 50 million young people aged 15 to 29 years old, unprecedented levels in the country's history, Brazil will see its population in this age group return below this level from 2021 onwards. The Brazilian youth contingent may reach the end of the century reduced to almost half its current magnitude, reducing the possibilities of the nation's prosperity. Brazil does not go down this path alone. By 2060, the percentage of young people will decline in 95% of the 201 countries with population projections. Currently, Japan has the lowest percentage of young people in the world (14.7%), closely followed by Italy (15%), Spain (15.3%), Greece (15.9%) and Portugal (15.9% %).

Among the Brazilian states, the percentage of young people varies. The highest percentage of all is observed in Amapá (29.1%), followed by other states in the Northern regions. At the opposite extreme, the lowest percentages of young people are in Rio de Janeiro (22.1%), Rio Grande do Sul (22.1%) and São Paulo (22.2%), followed by other states in the South and Southeast. The youngest city is Pracinha in São Paulo with 48.2%, well above the Maldives' 32.67% (1st in 197 countries). An older city is Mato Queimado in Rio Grande do Sul with 11.99% of young people, much less than Japan. Of the 20 municipalities with the least young people, 18 are from Rio Grande do Sul.

l Population
I Executive Summary
I Text (In portuguese)
I Slides - Visualization / Print (In portuguese)

| INTERACTIVE MAPS (World States Capitals Municipalities)
Share of Youth - 1950/1970/2000/2015/2060/2100
15 to 29 years
By Gender - 15 to 29 years
15 to 19 years
20 to 24 years
25 to 29 years

| INTERACTIVE RANKINGS
World / Municipalities 2015 - 2000
Rankings (list) - World / States / Capitals / Municipalities

| OTHER MATERIALS
"Youth - Perceptions and Public Policies"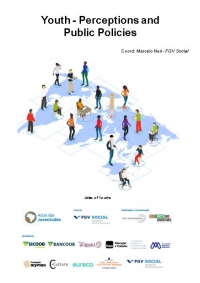 "Youth, Education and Labor: Impacts of the Pandemic on the share that Neither Study, Nor Work"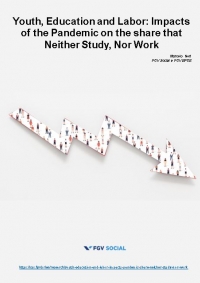 "Indicador de Juventude, Educação e Trabalho - IJET" (In portuguese)


| Contact: fgvsocial@fgv.br / +5521 3799-2320


>> Atlas of Youths