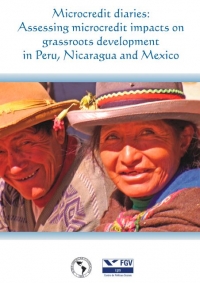 Microcredit diaries: Assessing microcredit impacts on grassroots development in Peru, Nicaragua and Mexico
About the research:
Presentation - The evaluation addresses eleven microcredit related projects in three countries: one in South America – Peru - one in Central America – Nicaragua - and one in North America - Mexico. The evaluation has been carried out by a team of researchers led by Marcelo Neri from the Center for Social Policies at Fundação Getúlio Vargas (CPS) in Brazil and includes as byproducts besides this report, individual report and video for each of the 11 microcredit experiences assessed. The following description concerns the fourth year of the project.
Objectives - The objective of this microcredit evaluation is to help the IAF to set a vision on how to support microfinance and microcredit programs in a way that is consistent with IAF philosophy and mission, which is to allow people to control their own circumstances.