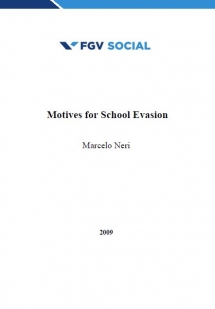 Motives for School Evasion - Neri, Marcelo Cortes
Sobre o paper:
ABSTRACT: We propose to study the causes of evasion along three basic lines, namely: the myopia or ignorance of public policy managers who restrict the supply of educational services; the intrinsic lack of interest of parents and students about the supply of education, be it for its perceived low quality or their ignorance and myopia about education's potential impacts. A third line is the income or credit market restrictions that stop people from enjoying the high returns of education in the long term.
Highlights:
Amongst the reasons why people are not in school, 85,6% are related to the lack of demand against 12,9% of problems with the supply of education.
The lack of intrinsic interest represents 50,5% of evasion. The need to increase income represents 35,1% of the evasion.
School evasion is worse when the aggregate work opportunity is combined with individual income deprivation.
REFERENCES
This paper was published in:
Book
NERI, Marcelo C. O Paradoxo da Evasão e as Motivações dos Sem-escola. In: Fernando Veloso; Samuel Pessoa; Ricardo Henriques; Fábio Giambiagi (Orgs.). (Org.). Educação Básica no Brasil: Construindo o País do Futuro. 1ed.Rio de Janeiro: Campus-Elsevier, 2009, v.1, p.25-50.
Site:
NERI, Marcelo C. Motives for School Evasion. Rio de Janeiro. 2019. FGV Social. Available online at: <https://cps.fgv.br/en/motives-school-evasion-english>