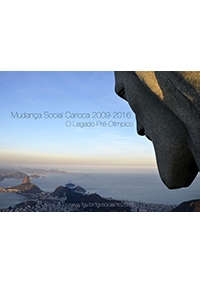 Rio Social Changes 2009-2016: Is There a Pre-Olympic Legacy?
About the research:
The term "Olympic legacy" refers generally to the projection of the gains to be seized by the city after the realization of the event. But can we already assess significant inflections in the historical series of the municipality of Rio de Janeiro in the period between the announcement and the realization of the event? After Rio2016 announcement, is there a change in the quality of life in Rio municipality? How the local population has been affected during the period of preparation for the Olympics? How has changed the home, school, work, transport, etc?

The main goal of this project is to assess the change in the quality of life of the population in Rio after the olympic venue announcement. We analyzed several areas such as education, labor, housing, public services, transportation, digital inclusion and social development. The unprecedented opening of Rio's household surveys microdata allows a scientifically investigation of the existence or not of a pre-Olympic social legacy.

Another goal is to act as an ombudsman of the Olympics social impact in Rio, making the results transparent to society. The project website provides user-friendly softwares that allows anyone to cross different sets of information and turn them into useful knowledge.

| Main Results
Abstract
Executive Summary
Video
Slides – PDF Version

| Interactive Data
Income Panorama
Assets Panorama
Income and Poverty Simulator (1992 - 2016)
Income and Poverty Simulator (1970 - 2010)

| The Research
Slides After Announcement - PDF Version
Slides Long Term - PDF Version
Strategy

Vídeo - Long Term

|Contact: fgvsocial@fgv.br / Tel (+55 21) 3799-2320